School Lunches
School Dinners are £2.45 per day. All payments should be made in advance.
Payment can be made via SCOPAY. If you need a login, please ask at the school office.
If you are paying for school dinners with cash or cheque, please can we remind parents that this needs to be in a named envelope if you wish for your child to bring it to their class teacher. Cheques should be made payable to St Monica Primary School.
L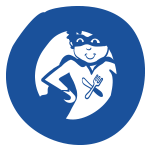 unchero is City Catering Southampton primary school app that helps parents and students identify meals for the term ahead. You can access their daily lunch menus as well as recreating favourite meals at home, thanks to their in-app recipes. Families can like their favourite meals and get excited about upcoming school meals.
Free School Meals
All parents/carers can check if their child is entitled to free school meals by visiting the Online Free School Meals Application Form on Southampton City Councils website.
Once you have logged and entered the required information, you will be told instantly whether you are eligible for free school meals. The school office will also receive a confirmation email, however it would be appreciated if you could also contact the office to advise of your change of circumstances.

Alternatively, if you are unable to access the online form, please feel free to pop in to the school office and we will be happy to assist with your application.