Break & Lunch
Healthy Snacks at Break
Our pupils are encouraged to bring a healthy snack for break-times.
Pupils must not bring snacks, which contain nuts, to school. We are a nut free school.
Pupils in EYFS and KS1 are able to take part in the National fruit scheme, which means that a range of fruits and vegetables are provided every day - free! In addition to this you can also purchase milk for your child in the infants (Ask for details at the school office on Inspire).
If you are struggling for ideas for healthy snacks that your child might like there are websites such as www.nhs.uk/change4life/food-facts / www.greatgrubclub.com which may prove useful.
Healthy snacks include
Any variety of raw fruit and vegetables
Cheese portions
Fromage frais
Yoghurt
Bread sticks
Please do not provide the following as break time snacks in school:
Fizzy or sugary drinks
Chocolate
Sweets
Nuts of any description
Crisps
Pastries


We also ask that if your child is having packed meals at lunchtime that you consider the contents of the lunchbox to ensure it is healthy and balanced.
Lunch Times
School Dinners are £2.50 per day. All payments should be made in advance.
Payment can be made via SCOPAY. If you need a login, please ask at the school office.
If you are paying for school dinners with cash or cheque, please can we remind parents that this needs to be in a named envelope if you wish for your child to bring it to their class teacher. Cheques should be made payable to St Monica Primary School.
www.citycateringsouthampton.co.uk/schoolmenus
EYFS & Key Stage 1 Online Winter Menu
Veg Portions are calculated based on the recommended amount of vegetables for children included in the dish. Side dishes, salads, and fruit on offer is in addition to this, meaning that on average half of the recommend 5-a-day is on offer every school day!
A dish is cooked from scratch when all or almost all of the elements are freshly prepared onsite by our team of school cooks

For those with a recipe available online, you can find that on our Cooking at Home pages or via the School Meals At Home filter - let us know how you get on!

Meals are listed as Vegetarian or Vegan when the main dish is suitable for those diets. Each week also features a meat-free day as part of our support for reducing meat-consumption.

You can explore more about our food standards below or visit our Accreditations page.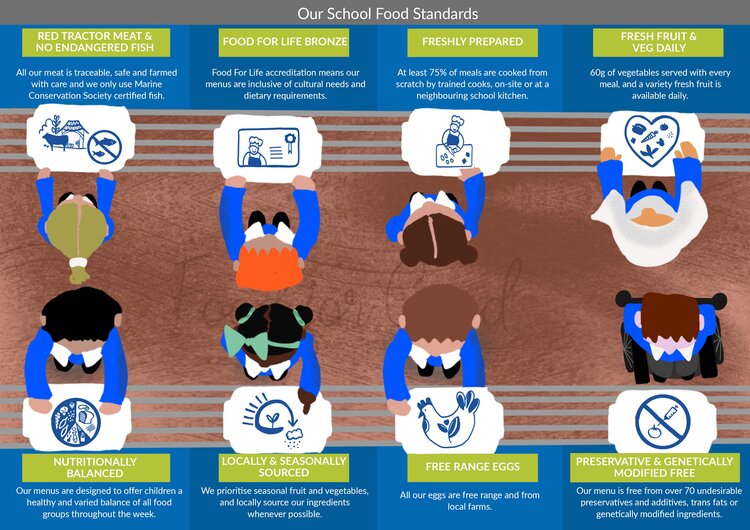 Free School Meals
All parents/carers can check if their child is entitled to free school meals by visiting the Online Free School Meals Application Form on Southampton City Councils website.
Once you have logged and entered the required information, you will be told instantly whether you are eligible for free school meals. The school office will also receive a confirmation email, however it would be appreciated if you could also contact the office to advise of your change of circumstances.
Alternatively, if you are unable to access the online form, please feel free to pop in to the school office and we will be happy to assist with your application.